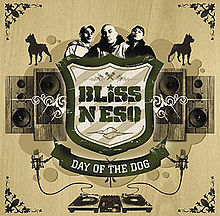 Write the first paragraph of your page here.
Day of the Dog is the second album by Australian hip hop group Bliss n Eso. It was released by Illusive Sounds in March, 2006 as both vinyl and CD releases. The title of the album is a metaphor for Australian hip hop being the 'underdog' of the Australian music industry, and affirming that it is now time for it to rise up
Track listing
Edit
All songs written and composed by Jonathon Notley and Max MacKinnon, except where noted
No.
Title
Length
1.
"The Dreamer"
0:51
2.
"It's Working" (J. Warburton)
4:08
3.
"Up Jumped the Boogie"
3:57
4.
"Then Till Now" (Xavier Millis)
3:47
5.
"Coppin' It Sweet" (J. Lloyd)
3:54
6.
"Get Your Boof On" (Millis))
4:17
7.
"Get Loose (featuring Hyjak)" (J McCarthy, Nathwani)
3:30
8.
"Mad Tight" (Warburton)
3:39
9.
"Nowhere but Up"
3:19
10.
"Watch Your Mouth (featuring Mystro)" (Kevin Amarfio)
3:56
11.
"Party at My Place (featuring Motley)" (Warburton)
4:18
12.
"Evening Breeze (featuring Kye)" (Jhi Smith, Hugh Vassall, Daniel Mascord)
3:11
13.
"That Feeling" (Mark Landon)
3:50
14.
"Lights Camera Action" (Millis)
3:59
15.
"Soldier On (featuring Kye)" (Lloyd)
9:58
16.
"Good Mourning Australia"
Community content is available under
CC-BY-SA
unless otherwise noted.